GO-ORKNEY MegaTour
2017 Supplementary Page - Longer Tours available in Summer

On Saturdays in May and June and every day in July and August Pentland Ferries' last daily sailing south from Orkney leaves at 1800 hrs, giving you an extra hour's time in the islands. This service extends your possibilities in Orkney; for example, you could visit Isbister Cairn, better known as The Tomb of the Eagles; or the Broch of Gurness; or have more time in Kirkwall.
(With this later ferry you return to Inverness 2200-2215 hrs (10-10.15 pm).)

In the past few years July and August were also the months when the ongoing excavations at the "Ness of Brodgar" were open to the public. In 2017 the site will be open to visitors from Monday 2nd July to Friday 24th August.
See below for more information on this feature.
---
The so-called Ness of Brodgar lies between the Stones of Stenness and Ring of Brodgar. The area has seen excavations for some years now. Visit this site for more information.
I visited the NoB site in early August 2013. The visit lasted approximately 1½ hours with a knowledgeable guide, who was nevertheless a bit shy about answering questions. The visits are available during the excavation season, early July to late August. As already noted, those months are also when the ferry service allows an extra hour in Orkney, so you can make this visit without missing out any of the other major prehistoric sites.
This URL is to a National Geographic Society Magazine article which features,i.a., a fine elevated picture of much of the site.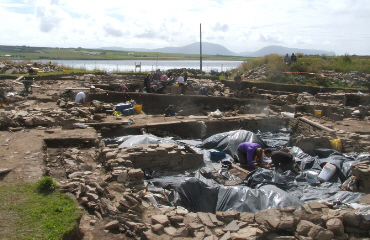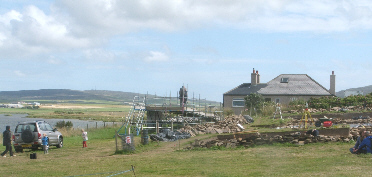 An actual visit to the site for ordinary mortals, sans helicopter, is somewhat less dramatic; the picture on left shows what you're likely to see, that on the right shows the viewing platform from which the excavation picture was taken. The house in that picture is called Lochview.
Another National Geographic site dealing with the Ness of Brodgar.
Sinclair Dunnett
Inverness, March 2017