OVERSEAS TRIPS

Puffin Express
We are involved in a number of special-interest tours abroad, especially in Poland.

Poland in Winter - next trip: 2018: 28 January to 2 February

This is an adventure where we look for large mammals including European bison, wolf, elk. Sledge rides in the forest, weather permitting, bonfires by frozen lakes, cross-country skiing sometimes available.

The forest where we see the greatest variety of large mammals and have the best chance of seeing wolf was greatly favoured by Kaiser Wilhelm II and that other mighty Nimrod, Reichsmarshall Hermann Göring. Photo shows Sinclair Dunnett by the stone commemorating the Kaiser's 2,000th stag, shot on 28 September 1912 - '...einen kapitalen Hirsch von ungorade 14 Enden...'. It is one of a number of such stones from the early 1900s.
Poland in Winter 2006 - Brief Report
14-22 January (Saturday-Sunday)
On the 2006 winter trip to Poland we all saw Bison (over 50 of them!); Elk; Red & Roe Deer; Wild Boar; Racoon Dog; and Red Fox - the last almost every day, and very beautiful against the snow. Wolf, Red Squirrel and Brown Hare were further mammals observed by some members of the group.
Four clients saw Wolf in daylight on our day of arrival at Puszcza Romincka. One of these plus three others wanted to do an overnight at the same high seat the next day but came out after about five hours. This left me with an opportunity to spend the rest of the night at that high seat and I was rewarded with two Wolves for a few minutes at 0230 and the same two - at least, I presume the same two - from 0500 to 0520. Wild Boar coming to this same remote spot are their usual exuberant, noisy selves, both vocally and in movement. The Wolves however moved like wraiths and it was fascinating to watch these creatures behaving completely naturally, unaware they were being observed.
Racoon Dog is an animal from the Oriental Faunal zone, now an escape from fur farms and living ferally in Poland. Naturalists are often ambivalent about such escapes but our superb view of a Racoon Dog in brilliant sunshine against pristine snow was voted one of the highlights of the trip.
I have been leading trips to Poland in winter most years since 1985 and this was unquestionably one of the best three or four ever for wildlife - not just the variety, but repeated good views of a number of species. We were fortunate with the clear frosty weather and just the right amount of snow - Peter Price's photos give a wonderful impression of the ambience. The good wildlife show was partly due to these favourable weather conditions and partly due to minor itinerary redesign to enhance our chances of good Bison views - with obvious results!
The bird list was as usual fairly modest - as to be expected for a winter trip - but quality made up for this. We had the finest views ever of Middle-spotted and Grey-headed Woodpeckers (plus several other species); excellent views of many tits; and almost monotonously good views of White-tailed Eagle.
The bonfires, forest feast and horse-drawn sledge ride proved as popular as ever. For the first time in some years several clients rented cross-country skis and greatly enjoyed their outings on three successive days.
Sinclair Dunnett
12 February 2009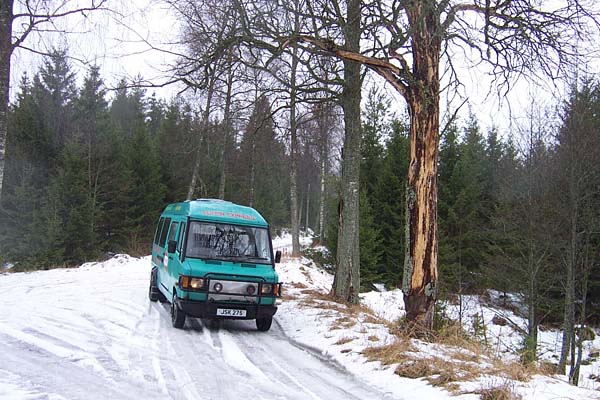 A large willow, gnawed and killed by beaver several years ago
Poland in Winter trips are usually guided by Sinclair Dunnett for NATURETREK.
To book, please send your mailing [street] address to Puffin Express or get in touch with NATURETREK direct - if the latter, please tell them you found the trip on the Puffin Express website - indicating the number of persons wishing to book.
---
Book by e-mail: Puffin Express or go to: Contact us